Guest Safety at Sway
Guest safety, along with that of our teams, is, and has always been, our number one priority, and so in response to recent concerns about safety in clubs and bars we are introducing additional measures to help guests stay safe.
These include
Publicising "Ask Angela" awareness in our toilets

Providing drink covers (Spikeys and Scrunchies) to anyone who wants them

Creating new Guest Support colleagues (who wear a neon armband) for you to go to if you, or any guest, has any concerns, questions or feels vulnerable.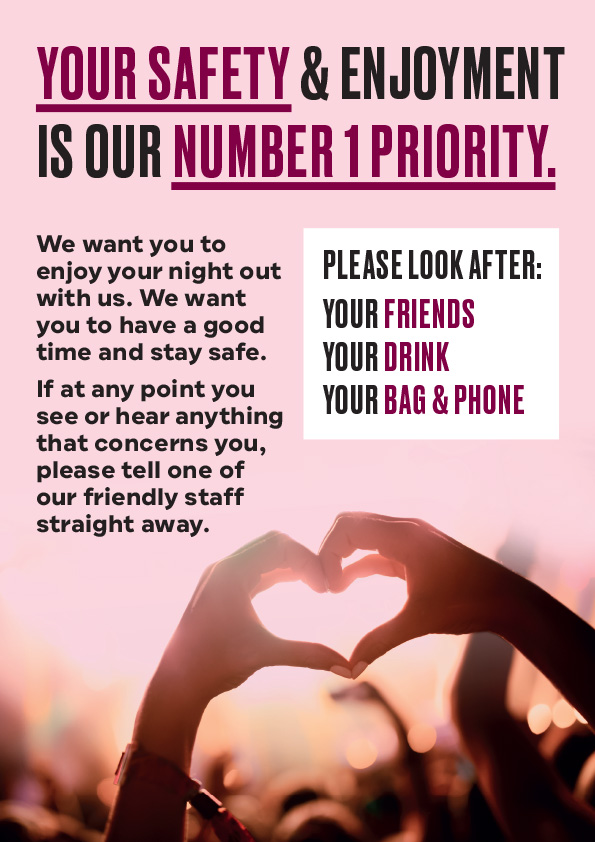 Safety first, no matter what
---
Here at Sway, your safety and the safety of our wonderful teams will always be our number one priority. To make sure we're keeping you safe and sound no matter what, we've introduced some additional measures to help you stay safe on your night out in Holborn. These include:
Ask Angela
We've kitted out our toilets with Ask Angela awareness, so if you ever feel unsafe on a date, you know how to get our help.
Spiking Prevention
We've got drink covers at the ready for anyone who wants them. Simply ask at the bar to get yours.
Guest Support Colleagues
We've always got someone on hand to help. So if you or any of your friends have any concerns, questions or worries, just find a colleague with a neon armband – these are our Guest Support Colleagues.